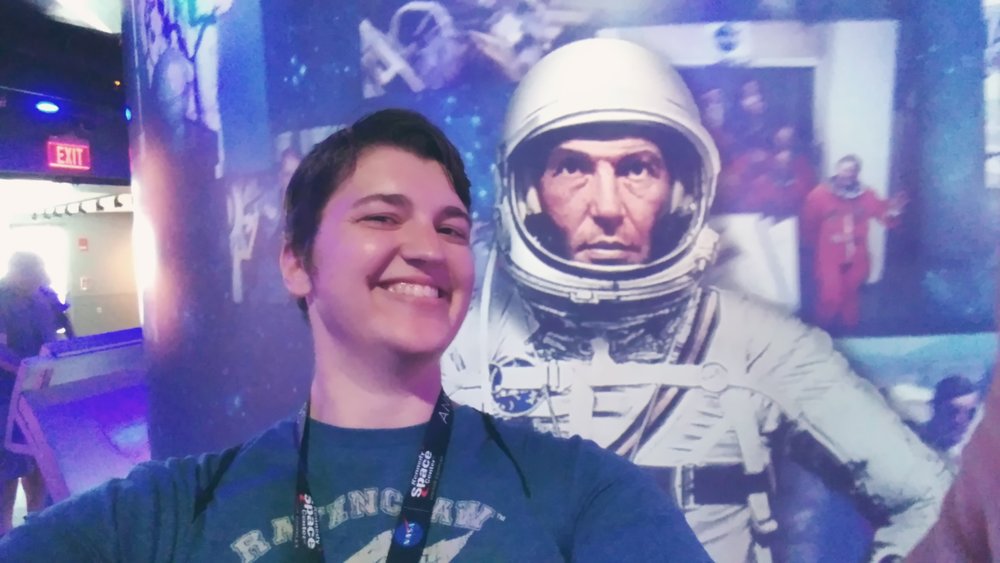 Me at the Kennedy Space Center, with a very serious Wally Schirra (A member of the Mercury 7)
I graduated from Western Washington University March 2015 with a BS in CS and a minor in math. For the past 5 years I worked as a Senior Software Engineer, connecting up databases to the web, arguing over best long-term architectural decisions, and whatever else they needed me to do. Currently working as a freelance developer, living  in beautiful Minneapolis, MN.
In my spare time, I play with infosec, reverse engineering, learning Japanese, and whatever else catches my fancy.
Education
Degree
Bachelors of Science in Computer Science with a Minor in Mathematics
from Western Washington University. Graduated March 2015 with 3.5 GPA
Ongoing
Security
Attended multiple Webinars by Wild West Hackin' Cast
Intro to OT(Operational Technology) 1 hour webinar
Intro to Linux Forensics Logs 1 hour webinar
SOC Core Skills 16 hour webinar
Embedded systems
Programmed an ATmega328p from an Arduino Uno, without using the Arduino ecosystem
Did some intro reverse engineering of a modem
Completed Udemy course on Unit testing and the Unity framework, written by the authors of Throw the Switch, a community that "wants to unleash the awesomely flexible power of C on our Embedded Systems without fearing the dangers"
Web technologies
Work
Freelance Software Developer
2020 to present
Currently working with individual clients and non-profits to develop custom websites and applications to support their businesses. I do web development and hosting work to create stable, simple solutions that do what my clients want, to enable them to keep their businesses working.
Senior Software Engineer
2018-2019
Work Included:
building out a more automated build process for SPIE's websites
Sole developer importing 500,000 XML files generated by hand over 20 years into a relational database
wrote powershell scripts for automatically setting up dev VMs, refactored to be used for dev, test, and multiple VM environments
developed and organized Confluence documentation to help on-boarding and knowledge transfer
Member of interview team for other senior software engineers
created take home project for senior, junior, and intern software engineer interviewees
sole developer for initial refactor of business layer code to support new digital library clients
Software Engineer
from January 2015 to 2018
Work Included:
Full time initial dev for new Digital Library website, https://www.spiedigitallibrary.org
Full stack developer for SPIE.org using C#, Razor, HTML, Jquery
Data Layer DLL connecting with multiple SQL databases
Develop plugins, workflows, web resources for Dynamic CRM using C#
Set up ELK stack using Docker and VMs to push for Logging Visualization system
Created and leading team to improve the software development lifecycle at SPIE via automation towards CI, CD, logging visualization and other process improvements.
Create powershell scripts for managing data normalization